Relieve stress while creating art for your walls.
Each piece is printed on high quality canvas and then mounted to a sturdy solid frame to ensure a comfortable surface for coloring. When your masterpiece is finished, use the included hardware to easily hang it on your wall and let the compliments pour in.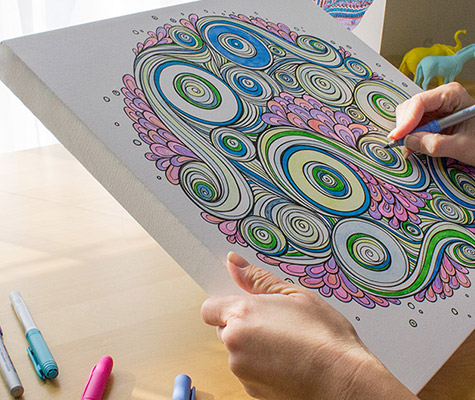 We offer three different levels of Coloring Canvas.
Beginner-level canvases are less detailed with bigger spaces to color in.
Intermediate-level canvases are a mixture of both large and small details.
Advanced-level canvases are typically full of intricate details and better for more experienced coloring artists, and people who enjoy a challenge!
Recommended Markers:
We highly recommend using BIC Mark-It Permanent Markers in a Fine Point tip. We offer these markers at a great price as an add on to your coloring canvas. Just check the box to add the markers before adding the coloring canvas to your cart.  
Tips:
Don't be afraid to leave some white space on your canvas. Not every opening needs to be filled in.
For bigger spaces on your canvas, create an ombré effect by fading from dark to light shades. It's a simple way to create a striking look.
Keep in mind that your unique taste is what will make your Coloring Canvas perfect. If you mess up, nobody will notice!