Our Custom Pillows are available in two styles - Indoor Burlap & Outdoor Microfiber Twill. Each pillow consists of a printed pillowcase surrounding an insert, so it is ready to use when you receive it!
Chose from our collection of customizable designer pillows OR upload your own image.
Customizable Throw Pillows
Our pillows can be easily customized to fit your unique style. Available in six sizes, two textures, and hundreds of customizable designs, there's a throw pillow waiting to be made just for you. Whether you're looking to spruce up your home or outdoor area, pillows are the easiest way to refresh any space.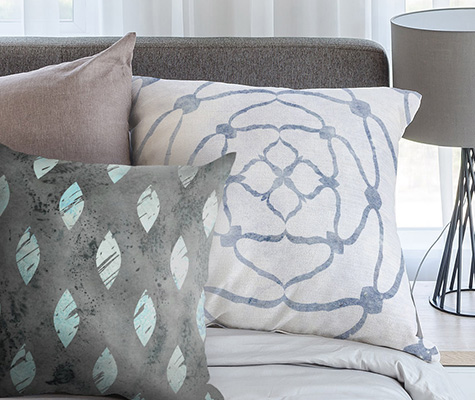 Custom Photo Pillows
Simply upload your photo! Turn your memories into a piece of décor by having your photos printed on a high quality throw pillow to enjoy at home on the couch or outside on the patio. Simply upload your photo and we'll take care of the rest. Spruce up your space with a pillow designed by you, for you! Our custom pillows also make incredible gifts for friends and family.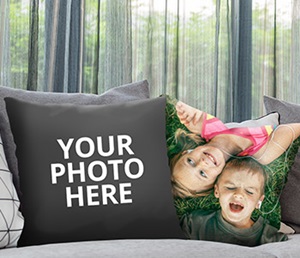 Designer pillow are printed on both sides. Custom photo pillows have the option for 1 side or double sided images. Only 1 image file can be uploaded per pillow.
Materials
Our Indoor Burlap style pillows are made of a heavyweight 100% polyester woven microfiber. It is a premium, soft material perfect for any indoor space!
Our Outdoor Microfiber Twill style pillows are made of a stain-resistant 100% polyester woven microfiber. They can be left on a covered porch or deck with no worries! We do not recommend leaving them in direct exposure to the elements for long periods of time.
The insert filling is 100% polyester.
Care
The cases on our pillows are machine washable. Just simply remove the insert using the hidden zipper on the side of the pillow and throw the case in the washing machine! We do not recommend machine washing the pillow insert.
Shipping
Each pillow is custom created and ships out in 3-5 business days. We are unable to rush production or shipping on pillows.